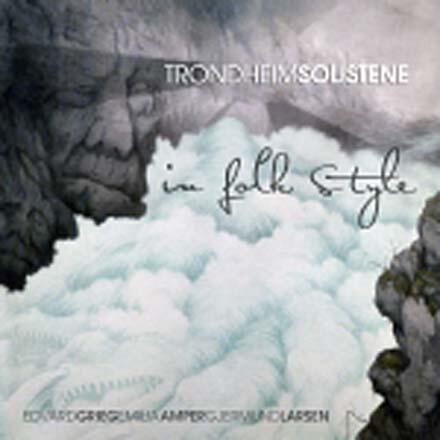 Passionate play with Folk Songs
The Trondheim Soloists:
Revealing intense musical details, the new CD In Folk Style sets a new standard for the performance of Edvard Grieg's "Suite From Holberg's Time". In addition the folk musicians and soloists Gjermund Larsen and Emilia Amper perform two their own pieces on the Album.
Denne artikkelen er over 13 år gammel, og kan inneholde utdatert informasjon.
The Trondheim Soloists (TrondheimSolistene) from Norway are one of the most exciting young ensembles performing on the international stage. With the appointment of the cellist Øyvind Gimse as Artistic Director in 2002, the orchestra is now widely recognised as being at the forefront of defining artistic quality in Norway, collaborating with artists of the highest calibre across a broad range of genres. Øyvind Gimse is assisted IN FOLK STYLE by concertmaster Geir Inge Lotsberg.
In Nordic Melodies we find Grieg in passionate play with folk songs. The work sparkles with harmonies and expression, developing a whole story from just a few short stanzas. The Holberg Suite, loved for its beauty and feared for its challenges, is a fusion of European musical tradition and a genuine Norwegian sound palette. The Trondheim Soloists follow up with two brilliant soloists, Emilia Amper on nyckelharpa and Gjermund Larsen on fiddle, in newly commissioned music characterized by the same energy and tenderness. Wild nature and Nordic light are essential elements of the folk style. This lies at the core of the Trondheim Soloist's soul, a meeting between the musical playfulness and passion.
The Trondheim Soloists are in May and June 2010 touring China, their main concerts to be held at World EXPO 2010 in Shanghai, Chongqing and Beijing. They last visited China on an extensive Far-East tour in 2008, with the world-famous violinist Anne-Sophie Mutter from Germany. For the coming tour, the Trondheim Soloists will perform music by the Norwegian composer Edvard Grieg, Chinese composer Tan Dun as well as traditional Scandinavian folk music. Soloists will be the internationally renowned Norwegian singer Sissel Kyrkjebø and the folk musician Emilia Amper. In addition, the Trondheim Soloists will play concerts in Hangzhou og Sozhou at the opening of exhibitions by one of Norway's most highly profiled painters, Håkon Gullvåg, with whom the orchestra has had close cooperation.