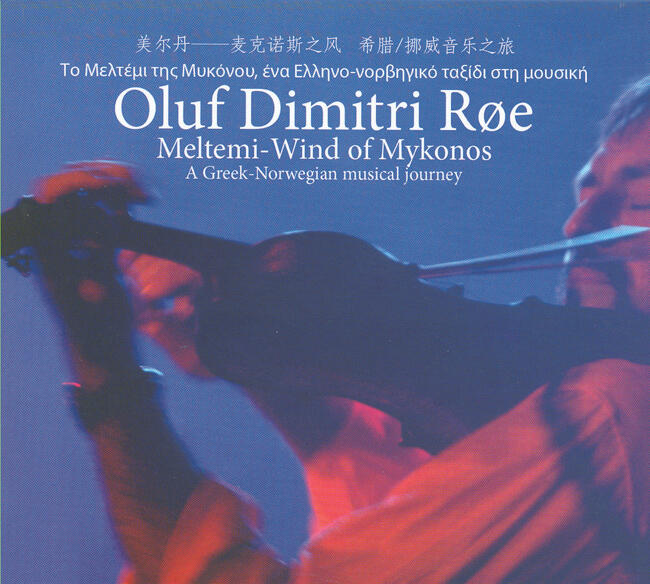 Oluf Dimitri Røe
Meltemi - Wind of Mykonos
A Greek-Norwegian musical journey.
Denne artikkelen er over 12 år gammel, og kan inneholde utdatert informasjon.
Oluf Dimitri Røe was born in Namsos, Norway, in 1962. His mother is Greek and his father is Norwegian, and he grew up in both Greece and Norway. This CD – his debut album – presents folk music primarily from Mykonos, the Greek island where he has his roots. This is music that is closest to Oluf Dimitri's heart. He gives traditional rhythmic and melodic magic his own fingerprint, presenting old music in new manifestations. The CD includes solo performance as well as arrangements involving several instrumentalists.

Norwegian/Greek Oluf Dimitri is a composer, musician and folk musician – and he specializes in singing to his own playing. It would be tempting to present him in full, as the multi-instrumentalist he is, but for this album we have chosen a sharpened Greek focus. Three enchanting melodies played on the Mykonos bagpipes, Sabouna, are included along with music from other genres within the highly diverse Greek tradition. Eight of the tunes are his own compositions. Guest musicians are hand picked for their roots in tradition, their outstanding musicianship and ability to improvise. Most of them live in Norway: Tom Steinar Lund, Gabriel Fliflet, Olav Tveitane, Ole Hamre (Norway), Ingor Ante Ailu Gaup (Sapmi), Idd Aziz (Kenya), Jovan Pavlovic (Serbia), Hans Hulbækmo (Norway). Several excellent Greek musicians also participate: Manolis Pappos, Nikos Kalantzakos, Manos Vassilopoulos, Nikos Menoudakis and Nikos Klapakis.

Oluf Dimitri has his training as an active musician and has studied classical violin in Trondheim and at the Odeon Athinon music conservatory in Athens. He has broad experience as a Greek/Norwegian fiddler, having collaborated across musical borders for many years. His repertoire includes traditional folk music from the Trøndelag-region in Norway and bagpipe music from the Greek islands. He sings and has composed music for theater. From 1991–1994, while living in Kautokeino, he collaborated with musicians performing traditional Sàmi joik and started the Sàmi choir called Dimitri Joavku. He collaborated here with Ingor Ante Ailu Gaup and Ante Mihkal Gaup. While living on Mykonos with his family, 1994–2001, he documented the ancient Sabouna (bagpipe) tradition that was about to disappear and produced a CD-book, "The Sabouna of Mykonos". He has been part of the band "Fri Flyt" along with Gabriel Fliflet and Peter Bastian, he plays in the Romani orchestra Bengalo in Trondheim, and he accompanies traditional Norwegian Romani/Traveler singer Laila Yrvum. He has also collaborated with rock musicians such as Dum Dum Boys and Åge Alexandersen.

Oluf Dimitri is a musician with curiosity, enthusiasm and passion. This, combined with high artistic standards and a generous nature, has led him across cultural and traditional boundaries to musical contacts and collaboration with, for example, Sàmi, Indian, Persian and Latin American musicians. He has also been initiated in the Romanian Rom/Gypsy fiddling tradition, a result of repeated and prolonged visits to Romania and direct contact with master players.
For more information enter the web page of Etnisk musikklubb