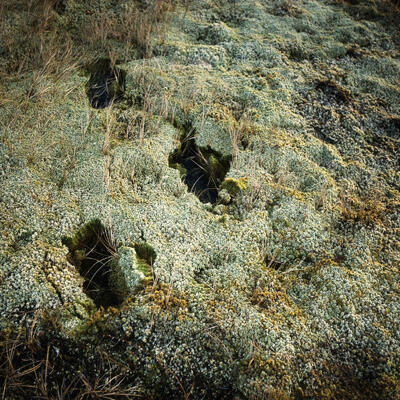 Nils Økland & Sigbjørn Apeland
Hommage à Ole Bull
With this record Nils Økland and Sigbjørn Apeland commemorate the fabulous work of Norwegian composer and violinist Ole Bull
Denne artikkelen er over 12 år gammel, og kan inneholde utdatert informasjon.
Ole Bull - improviser of genius
When asked by the King of Denmark to name his teachers, violinist Ole Bull famously replied, "The mountains of Norway, Your Majesty", and his work was certainly informed – as is the present disc – by the spirit of place. Once a world-renowned musician, Bull's current reputation rests on a small body of written pieces that tell just part of the story. He remains however an iconic figure in Norwegian music. Ole Bull (1810-1880) was a player-composer who associated with the great names of 19th century music – Clara Schumann and Franz Liszt were amongst the pianists who accompanied him – but also had a lifelong involvement with folk music. From childhood onward he was friendly with local Hardanger fiddle players and he would often play folk tunes in his recitals, or borrow themes from folk music for his concert pieces. Edvard Grieg considered Bull amongst his most important inspirations: "Ole Bull became my saviour. He showed me the beauty and originality in Norwegian folk music." For Liszt, Bull was "quite simply extraordinary. He is a sort of savage's genius, possessing an abundance of original, enchanting ideas." A player of great technical prowess, Bull was regarded by many critics of his day as a logical successor to Paganini. And, like the Italian master, he was an improviser of genius. He was also given to romantic-extravagant performance gestures – such as playing his violin atop of the Cheops pyramid at Giza. Mark Twain and William Thackeray were amongst his many admirers, and Ibsen is said to have based the figure of Peer Gynt on Ole Bull.
In 1872, Bull bought the island of Lysøen off the west coast of Norway and had a villa built there on 'fairytale' designs by architect Conrad Fredrik von der Lippe. In 1974, Bull's granddaughter donated the house to the Norwegian Society for the Preservation of Ancient Monuments, and it has since been maintained as part of the Lysøen Museum. Many concerts have been given in its music room, but Nils Økland and Sigbjørn Apeland are the first musicians to have recorded there. Sigbjørn Apeland plays a grand piano which once belonged to Ole Bull's daughter Olea, as well as Bull's harmonium. Amongst the instruments used by Nils Økland is Bull's Guarneri del Gesù violin from 1734.
Exploring the musical univers of Ole Bull
From the liner notes: "For years Økland and Apeland have explored Ole Bull's musical landscapes with open minds, and found inspiration to develop their own ideas. In this recording they have chosen to emphasise the contemplative elements in Ole Bull's music. The selection is inspired by the beauty and tranquillity of the surroundings, by the serene ambience of the music hall, and, most of all, by Ole Bull. The album presents partly the performers' own arrangements and improvisations based on tunes that Bull performed, and partly new compositions inspired by Ole Bull."
Nils Økland and Sigbjørn Apeland, in a Performers' Note: "We don't claim to improvise as Bull did, but we use many of the same themes that he used, and – as with him – our improvisations are often based upon Norwegian folk music. We also want to perform his melodies in our own way (…) Like Bull, we are influenced by our contemporary music. We also consider ourselves as parts of a long chain of composers and performers who have integrated elements of folk music in their improvisation and compositions, from Edvard Grieg via Eivind Groven, Bjarne Herrefoss, Jørgen Tjønnstaul, Geirr Tveitt, Jan Johansson, Don Cherry, Jan Garbarek, Arild Andersen, Frode Haltli and Karl Seglem."
Sigbjørn Apeland and Nils Økland
"Lysøen: Hommage à Ole Bull" marks an ECM debut for Sigbjørn Apeland. Sigbjørn holds a position as organist in Sandviken church, Bergen, and collaborates with musicians within a wide range of genres, especially church music, Norwegian folk music, electronics and improvised music. He has also composed/performed music for mixed-media projects, most recently: The Organ Tower (installation/performance for about 25 harmoniums and electronic organs), Kanskje aller helst der (play by Ragnar Hovland), and Jeanne d´Arc (silent movie). He has participated in around 30 recordings, including prize-winning discs with electronica group Alog, and folk musician Sigrid Moldestad. As an academic, Apeland has been teaching, supervising and writing within the fields of musicology, cultural studies, church music, theology and folklore studies. He has also extensive experience as a folk music collector and researcher, primarily focused on material from Western Norway.
Nils Økland studied classical violin with Terje Tønnesen and Hardanger fiddle with two of the greatest masters of Norway's national instrument, Knut Hamre and Sigbjørn Bernhoft Osa.
Nils's solo debut for ECM, "Monograph", was released in 2008 to considerable acclaim. "(The disc) captures the qualities that set Økland apart from those who can merely play," wrote Julian Cowley in The Wire, "With Økland you get the sense that the instrument is an outlet for a vision." Økland has long bridged the distance between traditional and experimental musics. In addition to his solo disc, he can be heard on two ECM recordings with the Christian Wallumrød Ensemble. He has performed at the major Norwegian festivals and is a regular guest at the Bergen International Festival, where he has performed the Hardanger Fiddle Concerto of Geirr Tveitt. He has given concerts in most European countries.
Both Sigbjørn Apeland and Nils Økland were previously musical directors of the Ole Bull Academy in Voss, Norway.
Album Launch and concerts
"Lysøen: Hommage à Ole Bull is officially launched with a press conference and presentation in Oslo on March 25. At the month's end, the duo plays Denmark, with concerts in Voxhall, Århus (March 27) and Ormseley (March 29). A concert at Ole Bull's villa in Lysøen follows on April 14. In August and September Økland and Apeland will give a series of concerts in Lysøen and schools of the Bergen district, with Mari Lyssand as narrator.
A European tour is in preparation for October and November 2011.
Album includes liner notes by Norwegian journalist and Ole Bull specialist Mari Lyssand, plus a performer's note by Nils Økland / Sigbjørn Apeland. The booklet also includes photos of Nils and Sigbjøn playing at Lysøen.