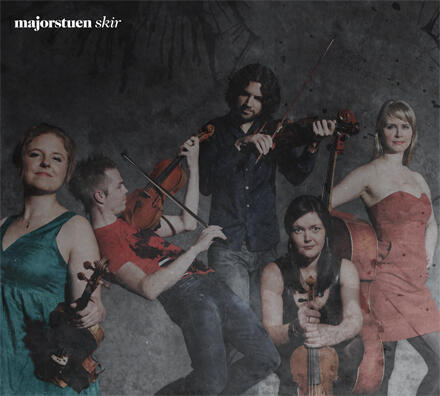 Majorstuen's new album Skir out on February 1st
Denne artikkelen er over 13 år gammel, og kan inneholde utdatert informasjon.
Skir presents a set of original Majorstuen compositions: breakneck polkas with daring runs; languid lullabies rife with blue notes; groovy reinlenders; and wickedly wonderful waltzes - in turns energetic, flowing, pensive and humorous. The performances convey their trademark zest and youthful exuberance, one minute filled with longing, the next, ready to challenge the whole world.

Release concerts:
30. jan.: Glasgow, Celtic Connections
1. feb.: Oslo, Litteraturhuset
2. feb.: Modum, Modum Bad
3. feb.: Vinje, Raulandsakademiet
5. feb.: Førde, Rica Sunnfjord Hotell
6. feb.: Trondheim, Dokkhuset
12. feb.: Verdal, Aulaen
21. feb.: Rendalen
22. feb.: Bergen, Columbi Egg
27. mar.: Paris, Theatre de la Ville
skir adj (norse skírr, related to skine) sheer, pure
skir adj (norse skírr; related to skine) unpolluted by other substances; true, clear, pure, undiluted
10 years of Majorstuen
When the members of Majorstuen came together ten years ago, it was with one simple goal: to challenge themselves, their instruments and Norwegian traditional music. The constraints were clearly stated and absolute: only stringed instruments, and no electronic gadgetry. Ten years later, these constraints still apply. And even today, they pose no obstacle to the creativity, playfulness and sheer sense of freedom inherent in Majorstuen's music. The fiddlers' ability to inspire, surprise and challenge has garnered them a string of awards, among them a Spellemann (the Norwegian Grammy) for their debut album. They have travelled far and wide for ten years to the delight of international audiences in France, Germany, Spain, Slovenia, Estonia, Azerbaijan, Israel, Mexico and Canada, in addition to countless appearances for Norwegian audiences in ages nine to ninety.
Majorstuen line-up
Andreas Ljones | fiddle
Gjermund Larsen | fiddle
Jorun Marie Kvernberg | fiddle
Synnøve S. Bjørset | fiddle
Tove P. Dalbakk | fiddle and cello

Press release: SOLID musikk