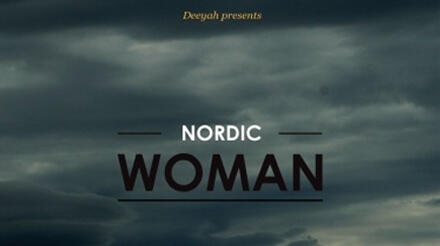 Nordic Woman
Deeyah presents
"Nordic Woman" is the first music collection in an ongoing WOMAN-series dedicated to celebrating women's voices and musical heritage from around the world. It features some of the most foremost female performers from the traditional music field in Norway, and it's neighboring countries.
Denne artikkelen er over 11 år gammel, og kan inneholde utdatert informasjon.
Each album is a journey through traditional music forms as expressed through women's voices and women's artistry, and is an exploration of women's experiences and circumstances, drawing attention to women's position in the world today, their accomplishments, struggles and the barriers they still face, says Deeyah.
- It was natural for me to start the series with a tribute to women's creativity in the place I was born. Growing up in a Nordic country, and seeing what was possible for women to achieve, has not only formed an essential part of my artistic perspective, but has informed my own personal commitment to women's rights, so the first release in this series had to be Nordic Woman, explains Deeyah.
The artists featured on the Nordic Woman album are Lena Willemark, Mari Boine, Annbjørg Lien, Bára Grímsdóttir, Tuva Livsdatter Syvertsen, Suden Aika, Valravn, Unni Løvlid, Kirsten Bråten Berg, Adjágas, Ragga Gröndal & The Icelandic Folk Ensemble, Phønix, MeNaiset, Garmarna, Heiða Árnadóttir, SUO, Ranarim and Tone Hulbækmo.
Produced in collaboration with Grappa Musikkforlag, the foremost independent music company in Norway, "Nordic Woman" is the debut production from Deeyah's own Fuuse Mousiqi, which presents itself as "a music company with a social conscience", borne out of the union of her two deepest passions – music and activism.
- Women's voices, and women's experiences, remain crucial to the continued progression towards full equality in all societies. The WOMAN series is my way of honouring and celebrating women and a personal voyage through the indigenous and traditional music of their lands, explains Deeyah.